If you are new to my blog – thanks for stopping by.  If you are a return friend – thanks for coming back.  I am learning quickly that my Blog readers are virtual friends and neighbors – and I appreciate you visiting.
Today's post is a series that I share every other week or so.  If you missed the last TT&AL (Two Truths & A Lie) you can find it here.
 Truth
Nothing pleases my inner thrifter more than taking something I already have that has set idle and putting it to work.  As we finalized renovations at 716 we were left with an eclectic mix of doors, windows and hardware from remodels present and past.  Below are two examples of pieces from the sidelines that we put into play.  The windows pictured in the stairway were original to 716.  We found these 100 year old, wavy glass beauties propped in a corner of the garage.  The windows had been discarded during one of the previous remodels to 716 long before we made it ours.  We simply added headers into the stairway wall and placed the windows into the space that was screaming for natural light.  The functional light they bring to the stairs is priceless and nothing warms my heart more than seeing LaLa feet making their way down to the kitchen each day.
 The door pictured was another left over from remodels past.  An old sturdy, original door, rich with evidence from the homeowners and families before us.  Our trim carpenter and friend Thad fashioned some casters on the bottom for easy maneuvering and I added the house numbers to dress it up.  This table now resides in the LaLa land living space upstairs.  These types of projects challenge me to take a second look at things…I need good reminders like these.
Truth Deux
Snappy photos that pepper this – and others blogs have led to a virtual epidemic of sorts:  Domestic delusional comparison disorder.  Hear me out on this one.  When I post a photo that features a decorating nugget or a photograph of our home, readers get a single, tunnel vision view of what life must be like here at 716.  How did I establish this theory of unrelatability?  I read fabulous blogs and frequent Pinterest (12,655 pins worth of proof.)  I also have long suffered with this disorder.  I give you exhibit A –  the Little Mrs Seven One Six blog post ready room.  Pillows fluffed, chocolate fingerprint stains removed and/or camouflaged with fluffed pillows.  Nothing to see here…just an overstuffed white sofa – no toys or dog poop as far as the eye can see.  Oh but wait – lets request a visit to the man behind the curtain.
Here is a snapshot from Friday evening – well… don't we look "normal."  As it turns out Blogs, Better Homes and Gardens, Betty Crocker – they all look better than most through a Photoshop lens.  It has been said that comparison is the thief of joy.  Let this serve as a good reminder to everyone – myself included.  Objects in the image may be closer to real than shown (this theory also applies to Facebook.)
Truth 1.2…this living room photo provided because my kitchen was too painful to post…true story.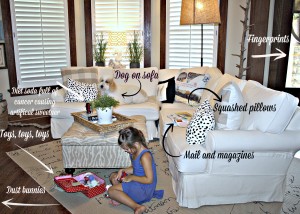 Lie
I have always dreamed of living next to the ocean, the mountains, or in Europe.
 No…no way…no how.  I have thick, deep-rooted, home-grown Midwest blood in my veins.  Don't get me wrong…I love getting away but what I love more is coming home…oh, you betcha'.  Looking for great finds like this Show Me State t-shirt?  You can find me pinning this and more on my Little Mrs Etsy Love board via Pinterest.
Also follow the links below for more thoughts on the magnificent Midwest.
http://www.huffingtonpost.com/2014/06/18/midwest-is-the-best-studies_n_5500725.html
http://www.buzzfeed.com/laraparker/reasons-midwest-girls-are-the-best-girls-on-earth