Let me begin by saying that I am not a fan of stock wedding gifts.  Egyptian cotton, sterling silver picture frames, Crate and Barrel baking dishes….I find it all, zzzzzzz, boring.  My aversion for traditional gift giving is rooted in the registry process.  I was even uncomfortable with the concept as a bride to be.  Now, after years of wedded bliss, I find myself mentally challenging what couples select for their registry via retail shooting ranges.  Don't get me wrong – I truly LOVE giving gifts; the packaging, the personalization, the entire process.  All of the endearing reasons above are why I despise the concept of scanning a bar code, locating a pre-selected George Foreman grill, purchasing (with gift receipt for easy exchange), allowing associate du jour to gift wrap item, schlepping  it the night of the wedding to add to a huge pile of similarly wrapped George Foreman grills.
Things I have actually said while Wedding gift shopping:
Lame wedding gifts are one of my hot buttons for a lot of reasons.  I vote we start a new tradition – 10 year "still" married showers for couples who remain in the trenches.  I assure you, gaming systems and shrimp forks would not be on these registry.  After 14 years, I deserve the darn quesadilla maker, and  our friends deserve a quesadilla, it takes a village.
A non-lame wedding gift alternative
via veronicavarsity.tumblr.com
Recently a friend and I attended a beautiful wedding.  Instead of new Tupperware containers we chose a boozy gift basket that features these adorable custom tags with some favorite wines: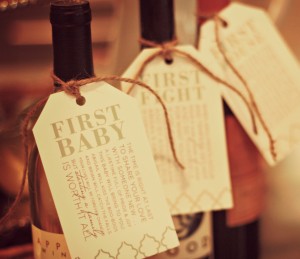 Charly Rhea at PulpPaperGoods on Etsy specializes in custom design and prints for every special occasion.  Our order from PulpPaperGoods came with 8 tags total that included first baby, fight, house, Christmas and Wedding Night.  Adorable!  Ordering is a snap and these tags shipped and arrived quickly.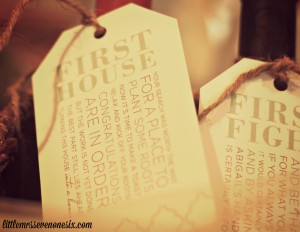 For $15 these beautiful tags come ready to use.  They are printed on heavy paper and feature your choice of color and design on the backside.  Stripes, dots, whatever your fancy and you can find them at PulpPaperGoods.
What I love most about these tags is the personal touch of the Bride and Groom's names featured on each tag.  Just add a basket and spirits of choice and you are ready to go.  Want to make the gift extra fun?  Add a cool wine opener or special wine glasses.
Prefer to print the tags yourself?  For $12 PulpPaperGoods will send you a ready to print PDF to print yourself – awesome!
Love and communication may be the foundation of a successful marriage but let's face it – a little wine never hurt.  Toast the happy couple with a personalized gift that celebrates life's milestones from PulpPaperGoods.  Good wedding gifting – because no one will remember if you give them a banana hanger (well almost no one.)
via Imgur.com