Repurposed and reclaimed has changed the face of home decorating and no place does it better than the 816 area of the Midwest.  It's no secret – I am a huge fan of treasure hunting at warehouse weekends in the West Bottoms area.  The Kansas City vintage movement has given new life to the once deserted West Bottoms and the first weekend of each month has become a thrifters paradise.  I love the atmosphere, the food trucks, people watching and of course all the vintage steals.  It's a festival-like feel and it seems a new shop full of treasures is popping up every month.  It's easy to get excited about fluffing the nest with finds from these sales and vendors.  It's feel good decorating.  Restyling and standing out vs. blending in and mass production.  Combine supporting homegrown merchants with one of a kind finds – it's a match made in non-mainstream heaven.
  Another favorite 816 hot spot is a Liberty neighbor.  The Red Apron opens it doors to excited customers the third weekend of each month.  Owners Lisa and Kirsten along with their fantastic vendors pile treasures reclaimed, reworked, often repurposed and always fabulous to the hilt each month.
Here is an insider thrifting secret.  The folks at the Red Apron share all that's up for grabs via Facebook and Instagram prior to the sale – handy.  To get the loot scoop, follow the Red Apron and get the sneak peek prior to the sale.  You can find the Red Apron links here:
https://www.facebook.com/pages/The-Red-Apron-Liberty-Missouri/http://instagram.com/theredapronliberty
Each month I find something I love at Red Apron.  This is one of my favorite finds from sales past.  The movie "UP" is a 716 favorite.  This adventure is out there wall art for Vivienne's room was a must have a few sales ago.
During the July sale I found this little gem.  I originally wanted to pick this up for the LaLas to enjoy in their Barbie Dream House.  The clock winds, it has an alarm and even a radio!  Sorry Barbie but this adorable cheeky little clock is just my style.  I added it to Vivienne's bedside area.  This darling little addition helps Vivienne's  nightstand…stand out.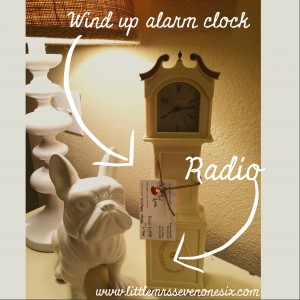 Interested in making a trip for their next sale August 15th & 16th?  Plug the
Red Apron
address into Mapquest and head their way.  The address: 1090 East County Road H, Liberty, MO 64068.  Just East of William Jewell College before B Highway.  
Looking for a perfect Liberty day trip agenda?  Try this one on for size:
Breakfast at Ginger Sue's on the Historic Liberty Square. Tall coffee to go.
Shopping the Historic Liberty Square including , Peyton's Closet, Catfish and Tater (off the chain fashion and accessories) then on to Croquet (home, fashion, dogs) this one of a kind store has it all.
Red Apron treasure hunting
Lunch at La Tienda Chinqita (mind blow)
Get a green thumb fix at Family Tree Nursery.  More beautiful plants, trees, shrubs, and all things outdoors than you can imagine (be sure to check out their fairy garden supplies.)
nap (optional)
Making the spaces where life happens purposeful and beautiful has never been more fun or affordable.  Come see the folks at Red Apron in Liberty for inspiration galore.